Here

is what a few families have said about their adoption process and puppy from us including a family from France.
Blessings,
Janis Huskey
865.384.7631
=====================================================================
Dear Janis:                                                                                                                                January 29, 2014
I just wanted to drop you a line and tell you how awesome an experience it was purchasing a puppy from you!
When I came across your website and I started looking through it I knew that if you had a puppy available I wanted it to come from you. When I read the section on the available of puppies and you wrote such a detailed description of each puppy, it was like you actually knew them and they were already a part of your family!
Then after I sent you an email asking about availability, you were quick to respond with the two pups that were available and descriptions of each one. Not just a color and sex description, but a personality description, height, weight, appetite, preferred toy they like and when your next litter was due to arrive. I just had a warm fuzzy feeling that this was no puppy mill and definitely where the next member of our family would come from!
When I decided to wait for the next litter you said ok and there were no hard feelings and that you would call when they were born. I had to ask YOU if I could put a deposit down on a male puppy that would be a family pet and not a show dog or breeder. You said sure and asked me about my home and how he would be raised. It was as if I was adopting a child and not a puppy! Just as you said, I was notified when the puppies were born and you emailed me pictures of my new puppy. When I told you that the puppy was going to be a surprise Christmas gift for my wife you were interested in how I was going to do the surprise. Every week to week and a half you sent me pictures and DETAILED progress reports on Charlie (now Zeke). You were in contact with me every week and asking if my wife had figured out that the puppy pictures she was getting were of the same puppy and if she had figured out my "surprise" yet!
Then when the big day finally came and we were going to get our puppy you text me when he left Knoxville and text me for updates on his travel! When I did receive the puppy you were as excited for us that the surprise was successful!
I also appreciated the talks we had about my mature female Boston and all of the information you gave me on health, feeding and supplements I could give her to make her more comfortable. Again not a puppy mill dealer!
And if all of that was not enough one on one contact, you sent me emails, websites and a whole lot of reading on puppy care and what to expect when my puppy arrives so I can be educated on his diet (by the way Suzie loves the raw food diet), supplements and his progress on potty training.
Janis, I certainly am happy I made the decision to go with you and that you went with me on this puppy! Zeke is a treasure and my wife is so excited to have a puppy of her very own. You just can't imagine how happy that makes me that I had the opportunity to bring such a bundle of happiness into her life!
If you want to use this letter on your website please do so and if anyone wants to email me about my experience I would be more than happy to tell them how great it was! My email is: [email protected]
Sincerely,
Waymon Tucker
=====================================================================
Hi Janis…I hope this finds you and your family well.  
I wanted to give you an update on Cooper!  He has become a great addition to our family, he's wonderful with our daughter and has such a great personality.  We were new to Boston's but are now completely sold!  He is so intelligent, loves to give kisses, has yet to meet a stranger and has the perfect mixture between uncontrollable energy and snuggling on the couch watching TV.  He's found his 'spot' lying in the sun near our front windows
and is so happy when we have a fire in the wood stove.  
I've also attached a picture of Cooper sunning…Hope you have a wonderful day!
~Janet
January 5, 2014
To Whom It May Concern:                            
We adopted a puppy from Janis that we received a few days before Christmas.  He is an amazing little puppy and we are happier with him than we ever imagined possible.  The whole process was very easy- Janis is great to work with!  My husband found her online, as the only certified breeder in TN for Boston Terriers listed on the AKC website.  She promptly emailed us pictures of all the puppies from their most recent litter, along with estimates on what their full grown weights would be and a little information on their new personalities.  From this information, we chose which puppy we wanted and Janis even agreed to let us pick him up a few days early as we wanted to surprise our children with him for Christmas.  Janis sent us several pictures along the way.  
We had to wait about 6 weeks from the time we decided on our puppy until he was ready to come to our home.  We loved receiving the pictures and updates as he grew and matured over those 6 weeks.  Janis also sent lots of emails containing information on how she raised her dogs so that we could continue once we brought ours home if we wished.  The information she sent was so informative and saved us tons of time and confusion. 
Janis was very easy to work with regarding picking our puppy up to bring home.  She met us at a specified location and even sent a huge bag of prepared raw feedings to send home with the puppy.  We definitely recommend Janis and will most certainly use her again in the future if we decide to get another dog.  Please feel free to contact us with any questions,
Molly Boring
=====================================================================
My experience with Janis was great from beginning to end.  She was very responsive to my first email inquiries and has remained so throughout the adoption process.  Janis was great about providing detailed information about the best plan for my Boston Terrier's long term care, including vaccinations, diet, spaying/neutering, and providing a step-by-step guide on housetraining and the puppy's first days at its new home.  My puppy (CARLIE) was very healthy, happy, and well-adjusted and I could not be more pleased.  I would highly recommend Janis any time you are looking for a dog or advice on how to raise your pet to live a long and happy life!
Mark C. in Georgia
1-12-14
======================================================================
REFERENCE FOR JANIS HUSKEY (BestBostonTerrierPuppies.com)
Janis absolutely knows her Bostons. Her every recommendation regarding the entire puppy process has been right on. When we picked up our female puppy Feb. 2013, Janis had pre-prepared all the meals for more than a week, chosen Cali's favorite play toy and selected the best chew toy ever. Cali was already trained to her "pee-pad" and has had a wonderful disposition.
Our puppy is very friendly, out-going and very intelligent. She is so well trained two weeks later that she has the run of the house. However, I lost track of her yesterday while doing some household chores…and found her just sitting in her little bed.
We had some reservations about the "raw" diet. Cali goes and sits in her cage when she is hungry. We lock her in the cage with a washable plastic mat because she is very zealous when she eats her raw chicken. While my husband finds it to be a hassle to wash the "Salmonella" (lol not really) off her paws, it is obvious Cali enjoys ripping and tearing at the meat. The crunching of the small bones is helping with the teething, as she is otherwise very content to chew on the pig's ears and cow hooves and has not bothered our shoes or furniture. Cali takes the supplement recommended by Janis and has a wonderfully shiny coat and lots of energy. The raw diet has become simple and inexpensive since it's very easy to prepare meal size portions of varying meats for Cali. I simply freeze all the pre-portioned meat, that I buy on sale, and thaw a couple packages for the each day. The meat does not spoil and is always ready on hand.
I've considered adopting an additional playmate for Cali and would only consider using BestBostonTerrierPuppies.com as we had two previous Bostons suffer with tumors and some other health disorders. I believe Janis has done the research to provide healthy animals.
Sincerely,
Carrie Wyatt
March 2013
======================================================================
To future prospective dog owners,
I had been debating with my partner for over a year now whether or not a pet was in the cards for us. We'd both grown up with dogs and had friends with pets we would regularly take care of when they'd leave town. I think work and my schedule played a lot into whether or not we'd have time to put aside for the pet which made us hold off for about a year and a half. When my schedule changed and I had the opportunity to work from home the time presented itself to make our idea become a reality. We began looking at puppies on breeder websites, adoption centers, pet stores, and pretty much anything else you can think of. It was pretty exhausting not knowing the best way to go about finding the type of dog you're interested in. Once we found a site that listed Boston Terriers in the age group we were interested in I found Janis's listing. It stuck out to me from all the others in her description of the puppies. It seemed to give them character and personality, I felt like I was interviewing my prospective puppy which made me feel validated in choosing to purchase from her rather than other breeders on the site.
The minute I sent an email in she called me to answer any questions I had and ease any anxiety I had about becoming a new pet owner. She forwarded me tons of information regarding vaccination, feeding techniques, how to care for them and an itemized list of what I'd need before they arrive. She really helped me check off every single item I was worried about so that when I got the puppies (that's right we decided to go with two instead of one she's that good!!) I could focus on making them feel comfortable and loving on them! The most insane part about the entire thing is how well the puppies are already potty trained. They were already using pads when we brought them home. They're both so well behaved you'd think they'd been trained for months and they're only 8 weeks old! People can't believe it when they come over and see these little guys behaving so well and using puppy pads after having them for less than a week. Like I said I grew up raising dogs and potty training is NOT a very fun part of that so Janis was a life saver for us in that department. She has even followed up to see how they're doing and checked in when we picked them up from the airport (very easy process she facilitated as well). The airline let us know when the dogs arrived and Janis had emailed us where to pick them up. We brought our identification and paperwork and picked up the pups with no issues at all! Everyone behind the counter was keeping them company while they waited too.
 All and all Janis is a very professional and amazing breeder. She made what could have been a very exhausting, nerve-racking process something that was enjoyable and personable. We've only had the little guys for less than a week and they're already family and irreplaceable. We have already begun recommending her to friends looking for Boston Terrier pups!
-Matthew Tobel, Chicago, IL
March 1, 2013
==============================================================================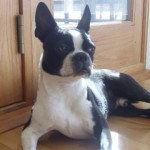 Jen and Jason Welch
Cell phone: 727-798-0833
September 3, 2011
 Dear Prospective Puppy Owner,
We are so pleased to recommend Janis Huskey and are simply in love with our new male Boston Terrier puppy, Baxter. From the first contact our experience with Janis has been absolutely superb. The entire transaction could not have gone smoother and it is very clear that we have a happy, well-adjusted, and very healthy puppy. We picked Baxter up at 8 weeks. He entered our home completely paper-trained and sleeps in his crate for 7 hours a night. A miracle! We were especially pleased as some websites we read stated that Boston's could be hard to potty train. Not so with Janis's puppies since she starts the process of housebreaking right away.
Janis provided excellent support and communication on everything from feeding, potty training and vaccinations to first night jitters (mine!) We spoke and emailed several times after we picked out Baxter. She even sent portrait-style pictures that we cherish. Janis raises her puppies in a family environment so that proper socialization occurs right from the start. After only one week in our home Baxter is able to occupy himself in his pen while we roam through the kitchen and living room. He is relaxed, not startled by our noise, and is proving himself to be independent when needed, and a cuddly lap dog when invited. He is

everything

we have wanted in a puppy.
 Another area that we really connected with Janis is the way she feeds and cares for her puppies. Fed only the best food and natural spring water, Baxter is healthy with a shiny coat and bright eyes. Janis is a wealth of information on natural puppy care, an approach very important to us. 
If you are looking for a healthy, well-cared for and socialized puppy, look no further than Janis and her precious puppies. We are happy to speak with you further if you have any questions. Best of luck to you with your new love.
 Jen and Jason Welch
=====================================================================================

Hi Janis,
I hope you and your family are doing well! Hard to believe it's been only a week since I picked Evie up at the airport! Evie is a great looking, healthy, well-bred puppy.
Evie has settled in and is starting to pick up her potty training. Only half of her play area with newspaper and she hasn't missed in a few days. Hopefully we'll be on a single wee wee pad by the time of our next report in a week or so.
Most important is that Evie came exceptionally well socialized. She was loved and trained during her first 8 weeks. This makes my work so much more manageable.
To start, Evie's a very happy puppy; friendly and well behaved. As important, she really listens. Just yesterday we had 4 kids 3 years and under "come see the puppy!". Evie was sweet as always, patient and just so loveable. As with any puppy the first couple days away from her litter were tough. But she never misbehaved. Evie hasn't cried or whimpered since. Her temperament exceeds my high expectations.
We've also been keeping up her raw diet. I've started to mix in a little Orijen puppy food just so she's familiar and we have that option. I must say her appetite has increased significantly since her first couple of days when she was a bit finicky. Keeping Evie on a schedule has been important to her feeding, potty training and overall happiness.
I researched Boston Terriers and breeders for months before coming across Janis. During that time I spoke with other breeders but Janis was by far the most focused on breeding a well-adjusted, socialized puppy. Too many breeders focus on pedigree whereupon personality and disposition suffer. Not with Janis. She obviously puts in the time with each puppy in the first 8 weeks. Not to mention she puts in the time with the puppy's prospective owners as she has been very responsive to all of my questions.
I'd be happy to speak to you further if you have any questions about my experience with Janis and Evie.
Regards,
Marshall Abbott
310-895-0112
2012
=====================================================================================

Sharon Alexander
Hamden, Connecticut
Cell phone: 203-910-5559
April 7, 2010
Dear Prospective Puppy Owner,
I'm very happy to provide a reference for Janis Huskey and her wonderful Boston Terrier pups.  My husband and I got a puppy from Janis in late February (2010).  We got an amazing little male Boston Terrier from Janis and we could not be happier with the experience of buying a puppy from her and with this fabulous little addition to our family.
When I started my search for a puppy in January, I found numerous Boston Terrier breeders online and all the puppies look adorable, so it can be a difficult decision of which breeder to get a puppy from.  While there are many factors that go into any decision for any individual, I would like to 100% recommend getting a puppy from Janis.  I had contacted another breeder prior to contacting Janis and I had a few concerns after talking with the first breeder (especially that her puppies were not raised in the home but were instead in an indoor kennel).  I started looking more closely with the ads from different breeders and I loved what I read in Janis's ad.  After talking with her the first time, I knew immediately that I had found my breeder and puppy.   From talking with her the very first time, she let me ask all my questions and also asked me questions, and I could tell that she very genuinely cares for her pups.  My subsequent calls and emails with her were also great – she provided any information promised and offered great advice and suggestions.
I think selecting a breeder is so important in making sure you get a puppy that is well cared for, well socialized and given a great start in life.  I cannot say enough how valuable I think it is that Janis's puppies are raised in their home and very well socialized as part of their family, with children and other pets.  It was obvious when we brought our little guy home that he had been raised in a home and with people – how do I know?  First, because he loves people (he is an absolute "people dog" – he loves everyone, including kids), he loves to be with his people on the couch (total "lap dog") and he is so familiar with sounds and activities around a home – he doesn't flinch when a pan bangs or plate clinks, which to me shows that he's been raised in a normal home with everything that involves, which is so important to having a happy, well balanced and well socialized dog.  She also feeds them a great brand of all natural puppy food and it's obvious that they have wonderful care for their first 8 or so weeks.  Janis also starts paper training her puppies while they live with her, which many breeders do not do – this gives them a great start on the way to housetraining.
We also had to have our puppy flown to us, since we're in CT and Janis is in TN.  She gave me all the information and reassurances I needed about the flight and the overall process.  I was kind of nervous about having this tiny 9 wk old puppy flying, but he did great – he was so incredibly cute and so happy to see us when we picked him up at the airport – I fell in love with him the moment I saw him in his carrier, wagging his little nubbin tail and offering kisses.  He is such a wonderful puppy and while that may be in part just his fabulous personality, I think that also relates directly to good, responsible breeding for temperment, health and socialization.
We completely adore our little Charlie and could not be happier with the decision we made.  We know without question that we got a great puppy from a great breeder.  If you are considering getting a Boston Terrier puppy, I would absolutely recommend you get a puppy from Janis Huskey.  I would be happy to talk with you by email or phone if you have any questions at all.
Kindest regards,
Sharon
======================================================================================
Valérie and Philippe ELLIOTT                                                    Annecy, January 4th 2011
74000 ANNECY
FRANCE
Object : letter of recommendation
We purchased our Boston Terrier, Chachee, on the fall of 2011, from Janis Huskey.
 She made the whole process of buying and shipping a new puppy so easy, through fully detailed e-mail updates, pictures, answering all of our questions etc… She was very helpful and trustworthy. 
Janis also made all the administrative, veterinarian and customs steps for us, and we just had to go pick our puppy at the Geneva Airport! Whenever there appeared to be a complication, she would quickly find a solution and do her best to make things go smoothly for us.
Chachee is such a joy to have around, she is full of personality, extremely smart, and friendly to visitors and family ;  we at once could see she had been very well bred and taken care of by the Huskey Family as member of their own. Our puppy is very healthy, playful and obedient. We have received many compliments from people on how nice and well behaved Chachee is. The parents of Chachee, Greer's Starbuck and Huskeys Princess Chala Lala, are Boston Terriers with a pure pedigree : Janis also sent us the AKC registrations of the parents and even their genealogy! You definitely get the perfect doggy  you paid for!
 We are very happy with our decision to get Chachee from Janis Huskey, and if we had to buy a new puppy, we certainly would buy it again from her. We received a full document about preparing for the arrival of our puppy and house training. The tips were great, very detailed and complete. One can only notice the effort Janis Huskey puts in making sure the new owners are able to welcome their puppy in the best possible conditions.

Thanks to Janis we have an amazing addition to our family! She is so knowledgeable and helpful, we wouldn't buy a Boston Terrier from anywhere else but the Huskey Family!
Valérie and Philippe ELLIOTT 
===================================================================================

 2010
Hello Janis and the Huskey Family,
I hope all you guys are doing well!
We wanted to take a few minutes and provide you guys with an update on Chata.
As you know Chata is now just over 4 months old. She is a very healthy and fun loving puppy. She has received all her vaccines and is now just over 10 lbs.
Our plan is to have her spade within the next 6-8 weeks. We have a wonderful Vet down the street, Chata always steals the show when we bring her in.
Chata is a very intelligent puppy, at 13 weeks she learned to sit, shake, lay-down and roll over. Of course… this is all in exchange for her favorite treats or toy.
She is still eating the Solid Gold food and she loves the Solid Gold turkey-jerky treats.
The potty training has been a learning process for us and her. Here in Michigan, she did not like outside during the cold winter months. We had to transition from paper to going outside.
Keeping her on a schedule has helped out, and she's doing great!
She is great with other dogs as well as kids, this is very important to us as we have large families so she gets a chance to socialize a lot.
Tomorrow, (Sunday) Chata is officially a student at Wag'N'Tails training center. This is a once a week school that goes on for 6 weeks.
She will be learning basic puppy skills and agility with other puppies. I'm sure we will also learn a lot.
Again, thank you very much for the beautiful & healthy puppy, she is very loved and taken care of. We hope her brothers found great homes too.
Janis, in the future, feel free to use us as a contact for any referral needs.
We have had nothing but the best experience with Chata.
Regards,
Srdjan, Dana & Chata
248-941-2085
Following note:

             Thanks for sending the paperwork, we did receive it.  The attached link has several recent pictures of Chata. She is doing great!  Fully potty trained, she uses a bell that hangs from our back door when she needs to go outside, its great!  She is an amazing puppy!
First note:
        Srdjan in MI:  We wanted to give you a quick update on the baby, Chata… First, both Dana and I love the name Chata and we decided to keep it. We love it!
We made it to Detroit with no issues. She was a great girl in the car, slept most of the way, did not  complain at all. We stopped several times for her to go potty, as she would not go in the car on her bed or blankets.
She loves her bed and blankets. When we got home, we placed her bed and blanket in the crate that we have for her. She knew to go in the crate when she is tired.
We were very amazed and thankful that she has no issues with the crate. When playtime is over for her, off she goes to her bed, in the crate, for a nap…
Second note update from MI: 

      The vet visit went very well. Chata is a very healthy puppy…   She is a very active puppy, getting comfortable with the house, exploring and playing a lot. It is great watching her learn to jump, run and chase her toys.
Thanks again, as promised, Dana and I will be putting together a letter for referral purposes.  In the mean time, if you have anyone that would like to speak to us regarding Chata and you as a breeder, feel free to pass on our email and phone number.
We'd be happy share the great experience that we have gone thru.
All the best!
Srdjan  & Dana
2010
======================================================================================
Lucy is all settled in. She is a ball of energy!!  She loved music lol so I leave a radio on when she is left alone and she seems to love that.
She is completely a mommas dog lol. She loves to play and snuggle. She is doing just fine! As for pics i have a bunch on my phone
if you are interested i can text them… Thanks again for our baby girl.Cynthia  2012
======================================================================================
Janis,
I wanted to send you a pic of Buddy……he is doing fabulous!
He is spoiled and thinks that his "Daddy" is the most amazing human ever!
Thanks again for our awesome dog.
Teddi
Another update:     Buddy is very smart.  He sits, comes on command.  He is fully housetrained.  He loves going to the kennel with his Daddy and helping feed the big dogs and he loves playing with the 
new puppies.     He enjoys harrassing our cat; Maximillion (Mad Max) but it is hilarious when Max turns on him and it's a cat chasing a dog!!!   Teddi 2012
======================================================================================
Hi Janis the attached picture was taken in August I wish I had a more recent picture on this computer,
Cooper is growing like a weed, he is so much fun to have and brings us so much happiness. and yes he does rule the house.
Don in KY
2012
==============================================================================================================
Hey, Janis!  "Princess" Missy is great!  We are just enjoying one another every day.  She now weighs 8 lbs. and her legs are getting longer. 
She has the most precious little face.  We give each other lots of kisses.  We have friends (who are also neighbors) who are also spoiling her. 
They come up to "play" at least once a week.  Needless to say, she's getting (& enjoying) lots of attention. 
Potty training is going so good.  Only a couple of 'accidents' in the house but that's to be expected.  No big deal. 
Speaking of potty—it's time for her to go outside before the rains come again.  Keep in touch!
Stephanie (2012)
=============================================================================================================
Update on Max and Minnie.
Here's a picture taken back in April, we've nick named Minnie mountain goat, she climbs everything.
Shy Max has turned into a bully.  They get their shots on Monday, They both way about 6 1/2 lbs, but Minnie is much bigger than
Max.  If they get a running start they can hop into a chair, and Minnie is understanding this potty training but Max not so much. 
We have put up a fence in the back yard and they love to chase leaves around, but only when it is warn.  We love them dearly, they are bringing great joy to us.
Margaret and Bob (2011)
=============================================================================================================

Dear Perspective Puppy Owner,
I am writing a letter of reference for Janis Huskey.  We got a Boston Terrier puppy from her in Sept. 2010.  When looking for our new puppy we knew we wanted a Boston Terrier puppy from a home breeder and not a kennel.  We also really liked the fact the Rosco's mom and dad are Janis's pets.  I run a licensed child care from my home and felt it was important for our new puppy to have been in a loving home environment so he would be somewhat socialized and exposed to some normal everyday noises.  Janis has kids of her own so our little 'Rosco' had been around them before coming to his forever home.  It's obvious Janis and her family care about the little pups they raise and want them to have the best start in life. 
Janis went above and beyond for us to make sure we were able to get little 'Rosco'.  We live in NE and since she lives in TN 'Rosco' had to come to us by plane.  He made the airplane ride safe and sound and was so very happy to see us when he arrived at the airport.  'Rosco' is a very healthy, sweet, smart, and loving puppy.  He's loves to sit on our laps and he follows us everywhere.  He started to recognize his name within a week or so and is doing great potty training. 
He has been such a great addition to our family.  We can't imagine our lives with out 'Rosco' in it.  Janis was great to work with and answered all our questions with out hesitation.  If you are looking for a Boston Terrier puppy to add to your family I would definitely recommend getting one from Janis.  You can contact me, Tracy, anytime at (402)-293-0101 as I work from home. Or you can reach us by e-mail.  I would be happy to talk with you about our experience with Janis Huskey.
Sincerely,              Sam & Tracy Downey          Papillion, Nebraska
Later note:  We love Rosco so much, he's such a good boy! I hope you received the photos I sent of when we first got him and the following few days. All of our friends and family had such nice things to say about him. All of my daycare children and their parents fell in love with Rosco, so he is very spoiled already! (Good Spoiled!) He is so loving. He loves everyone and really loves the children too. Our other dog Daisy is adjusting very well. They chase each other around the backyard and wrestle and roll around. It's hilarious to watch. If we're sitting down and he's not running around playing, he wants to be on our lap. He's so cute and he likes to follow me around the house during the day, he's a curious little guy. Thank you for everything you did to make this happen for us. I'm so glad you were willing to drive to Atlanta so he could fly to us. Thank you!! Like I said in my reference letter, we couldn't imagine our lives without Rosco anymore. I even think Daisy thinks that now too.
~~~~~~~~~~~~~~~~~~~~~~~~~~~~~~~~~~~~~~~~~~~~~~~~~~~~~~~~~~~~
 Comments from people who got puppies from our 2009 litter: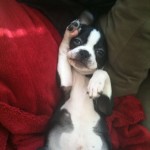 Taryn Fiol
[email protected]
From Taryn:
Hi Janis,
It's been a week now with little Bacon (formerly Cubit) and he is just the sweetest puppy. We love having his happy face and wagging 'nub' greet us every morning and afternoon. He's very smart and so sweet. He's learned his name now and he's doing well with 'sit' and 'stay.'
We took him to the vet Monday and she said he's as healthy as can be and also noted that his Knoxville vet took very thorough records. I just wanted to say thank you for everything and that if you ever need a reference in the future, feel free to give out my email. No need to ask, just send the future puppy owners my way!


I've attached a few pictures for you. I also thought you'd get a kick out of this: I'm a freelance writer in my spare time and I got the chance to feature little Bacon in a story about using technology (it's a tech-centric Web site) to help with a new puppy.
Thanks for everything,
Taryn
================================================================================

Ryan in California: Romeo is one amazing little guy! He is a stud, a comedian, a companion and a little lover (hence the name) all wrapped into one.
Personality plus ++ and super intelligent and obedient.  He has already brought so much extra joy and laughter to our lives and the laughs keep coming.
He is incredibly intelligent and seems to get smarter everyday.
He had his last set of puppy-shots last week so we were finally able to take him to the beach for the first time this past weekend and he LOVED IT!!!!!
~~~~~~~~~~~~

Melissa in Michigan: We are enjoying our new family member! We named him Knox. I'm assuming you know why:-) he is a perfect fit. Working on the potty training but he is doing a wonderful job!  I have an appt in two weeks for the vet but everything looks great.
  I take him everywhere we have done the mall to lunch at my favorite brunch place. We just hide him in his bag.  Thanks again for a beautiful pup.
~~~~~~~~~~~~

Andrea in Illinois:  I've been meaning to send you pictures  of Tico (aka Bosco) but have been busy with training and all of that.  Tico learns quickly.  He is housebroken and enjoys meeting people and other dogs.    His routine on the morning is to saunter out of his crate and lay on his back awaiting the belly rub he loves, then he is ready to go out.
Attached is a picture from a couple of weeks ago.  I'll snap a picture tonight and send it over.  He is now 8.2 lbs. and people can't help but be drawn to him. A jogger stopped her run the other day to meet him.